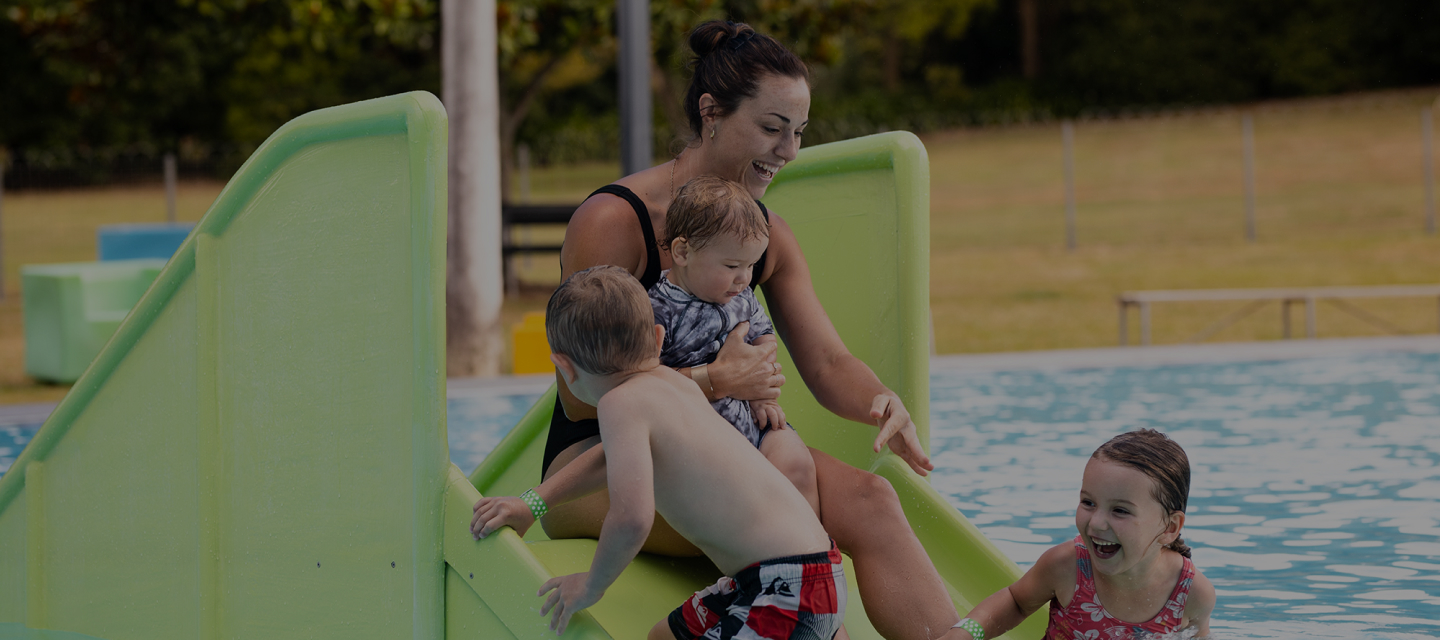 Terms & Conditions
Using the Pools
Hygiene

If you have been unwell for the past two weeks please refrain from using our pools until the symptoms have passed.
Personal and pool hygiene are vital to the safe operation of our facilities. Please take note of the hygiene guidance on signs around our site.
Food and drink

You're welcome to bring home-made food to eat in the outside areas/picnic areas only.
Please - no commercial food in any of our facilities.
Waterworld's LK Cafe server a range of food available to customers.
Supervision

The role of our staff is to deliver our services and manage the use of our pools themselves, our lifeguards are there for emergencies - but we need parents and caregivers help to manage and ensure the safety of the children they're accompanying.
Caregivers must be 16 years or older.
Children under 14 years old
must be accompanied by a parent or caregiver at all times.
Children under 8 years old
Must be actively supervised by a parent or caregiver at all times.
"Actively supervised" means being close to the child, watching them and be able to give immediate assistance.
Children under 5 years old
Must be accompanied in the water by a parent or caregiver.
be within arms reach at all times anywhere in our facility.
Please ensure all children are toileted before using our pools.
Swimwear

The safety and comfort of swimmers using our pools is a primary concern for Hamilton Pools. We reserve the right to use discretion should there be any confusion or concern relating to what is appropriate swimwear.
Acceptable Swimwear
Swimwear
Rash shirts
Swim shorts
Full body suits
Not Permitted
Underwear of any kind
Gang patches or insignia
Offensive Tattoos
Caps, hats or beanies
Cotton clothing of any kind
Cotton and similar fabrics hold detergents, germs and bacteria even after rigorous washing. This can cause swimmers to fall ill or get skin, ear, throat or nose infections. Because cotton can hold a lot of water it becomes unsafe to wear and it's weight can cause underwater entrapment. The breakdown of cotton fibres and the release of dyes in the material also causes more maintenance to the pool filters and upsets the pool water balance.
Children under the age of two are required to use a swim nappy which can be purchased from reception.
Learn to Swim
Learn to Swim Terms and Conditions
General

In these Learn to Swim Terms and Conditions, 'you', 'your' or 'student' means the student named in the enrolment form (or the parent, guardian or caregiver where relevant) and 'HCC', 'we', 'us' or 'our' means Hamilton City Council.
By submitting a Learn to Swim enrolment form (either in person or online), you accept these Learn to Swim Terms and Conditions.
We may change the Terms and Conditions from time to time by publishing new Terms and Conditions, which will be published at the Waterworld or Gallagher Aquatic Centre Reception, on our website, or made available to you by post or email upon request.

Fees and Payment

The Learn to Swim fees are set by HCC and may change from time to time. The current fees are available at https://www.hamiltonpools.co.nz/learn-to-swim/#prices. We will give you 30 days' prior notice of any change to the fees.
To be eligible for a 25% community services card holder discount, you must provide a valid community services card at the time of enrolment with photo ID. The expiry date of the community services card will be re-checked at the time of the student moving up a level in lessons.
All payments are to be made by direct debit on a weekly basis. Cash or Eftpos payments at Waterworld or Gallagher Aquatic Centre are not permitted. The direct debit facility will be used for payment of all fees and amounts owed by you as they become due.
Direct debits may be administered by us or by a third party appointed by us. We will provide you with a direct debit form to complete when you enrol. You are required to submit the completed direct debit and any associated forms at the time of enrolment. If a direct debit facility is not set up correctly at the time of enrolment, your space will be forfeited.
The set up of direct debit payment incurs a one off $15 fee. Each enrolment is set up individually with the fee applied to each person.
If a direct debit cannot be processed (e.g. because of insufficient funds or changes to your bank account) we, or our third party agent, may charge you an administration fee. If the direct debit cannot be processed for two successive payments, we may terminate your enrolment by providing you with written notice of termination.
In the event your enrolment is terminated due to a non-payment of fees, your account may be sent to a debt collection agency for recovery. Any recovery costs will be added to your outstanding account balance that is payable to the agency.
Direct debit payments will continue indefinitely until terminated by you.

Cancellation by you

If you wish to cancel, it is your responsibility to complete the cancellation form for your enrolment and to terminate your direct debit payment. You can request the form via email sent to learntoswim@hcc.govt.nz or by filling out a cancellation request form that can be found at the Waterworld or Gallagher Aquatic Centre Reception. At least 7 days' notice is required to process a cancellation request. Cancellation via phone is not permitted.

SUSPENSIONS

Payments will automatically pause if the facility is closed for planned maintenance or for any reason outside of our control.

REFUNDS/Credits

Refunds of lessons are not permitted. No refunds will be given if cancellation notice has not been given in writing within the required notice period.
If we have to cancel a swimming lesson, then a credit to the value of that lesson will be applied to your next direct debit payment.

MAKEUP Lessons

We will give opportunity for a maximum of 12 make-up lessons per calendar year (1 lesson every 30 days) for any holidays or illness. Absences must be notified in advance by phone or email to receive a make-up lesson. It is the responsibility of the member to book the make-up lesson by phoning Waterworld or Gallagher Aquatic Centre.
At the end of every 30 days, all unused makeups will be cleared from your account. No credit or refunds will be given for unused makeups.

Termination by US

We reserve the right to terminate your enrolment at any time, which will be advised to you in writing either by post or email, for any of the following reasons:

Non-payment of fees.
You materially breach these Terms and Conditions.
You fail to comply with any lawful and reasonable direction we give you.
The student's behaviour is, in the reasonable opinion of the teacher, disruptive to the class, and attempts to overcome the problem have not been successful.
Serious misconduct in or around the pool or behaviour that we consider carries a serious risk of injury or damage to other members or pool facilities.
Facility Use

You must follow all facility rules and all instructions from our staff.
Enrolment in a Learn to Swim programme entitles the student to use the facilities of Learn to Swim. The student may enter Waterworld or Gallagher Aquatic Centre up to 30 minutes prior, and stay for 30 minutes after, their lesson to enable them to practise their swimming skills. If family members wish to swim before, during or after the student's lesson, then they must pay at Reception for general admission to the facilities.
Equipment is for the use of Learn to Swim teachers and enrolled students in the lesson time only. Please refrain from taking or using, or allowing any accompanying persons to take or use, the equipment.

Timetable of Lessons

The continuous Learn to Swim programme operates 48 weeks a year. Lessons are not held on public holidays.
Lessons are generally 25 or 40 minutes in duration (depending on level), once a week. Students should be ready to start their lessons at the appointed time. Should the swimming ability vary from the class initially enrolled in, an alternative class will be allocated where space permits.
We reserve the right to reschedule if less than 2 students have enrolled for a class. An alternative lesson time will be offered.

Medical

You must inform Learn to Swim staff of any relevant health conditions that affect the student.
A GP's clearance will be required before the student can enter our pools if they have suffered from a disease/infection as per Ministry of Health guidelines (see Learn to Swim office for a copy).

RESPONSIBILITY OF STUDENTS

We do not accept responsibility for students outside of scheduled lesson times. Please note that, for safety reasons, all students are to assemble on poolside prior to the start of their lesson (and must not to get in the water until asked to by instructor). We are responsible for them whilst in our classes only. For safety reasons, parents/caregivers are expected to be poolside at the start and end of lessons to drop off or collect their children. Please ensure appropriate safe care is organised for siblings while you enjoy your lessons with your child.
If a student swims before or after their lesson, they must abide by the facility's "Pool Alone Policy" which will be enforced by the lifeguards on duty. Children under the age of 14 must be accompanied in the facility by a caregiver over the age of 16. Children under 8 must be actively supervised. Children under 5 must have a caregiver over the age of 16 in the pool with them. This means within arm's reach at all times.

CLOTHING/SWIM WEAR/APPROPRIATE EQUIPMENT

Please make yourself familiar with our clothing policy that is situated around the pool, in changing rooms and in the entrance way. A reminder that only swimsuits, rash vests, and board shorts (no longer than the knee) are permissible in the pool.
All students under the age of 3 must wear approved swimming nappies.
All students over 3 years must wear a swim cap and goggles while in swimming lessons to aide learning (unless prior dispensation from Learn to Swim Management has been given).

Learn to Swim Instructors

All our swimming instructors are trained, vetted in accordance with the Children's Act 2014, and committed to supporting the students in their Learn to Swim journey.
We cannot guarantee the same instructor for every lesson.
There are aspects of our teaching that require a "hands on" approach. This type of physical contact will be used where it is essential to support a student during early stages of learning or to develop a skill or technique e.g. the correct position of the feet and legs in breast stroke/correct breathing position, for safety reasons or to treat an injury.
Learn to Swim instructors adhere to Learn to Swim's "Positive Guidance and Social Competence Policy" when dealing with all cases of behaviour management. Please see the office if you would like to read the policy in its entirety.

Collection Of Personal Information

You must provide us with correct contact information and keep that information up to date at all times, including: name, phone number(s), postal address, email address, emergency contact, and authorise child pickup details.
All personal information that we collect about you will be held by us in accordance with the Privacy Act 2020 and our privacy policy. We will only use that information for purposes required for the operation of the swim school, including administration of your account, for marketing purposes or for any other purpose you may authorise.
You have the right to access and correction of any personal information we hold about you at any time.

Photography and recording of swimming lessons

We may take general photographs or videos of the facilities at any time. If you or your child appear in those photographs or videos, you agree that we may use them for marketing and promotional purposes and that you have no rights or copyright in the material. You release HCC, the photographer or filmmaker, and each of their licensees and assignees, from any and all claims and demands in connection with the material or its future use. We will seek your consent before using any photos or videos in which you are clearly recognisable as an individual swimmer.
You must get the permission of the swimming instructor in charge of the lesson before taking photos or videos of anyone other than your own children.
Using the Gym
BREACH OF THIS AGREEMENT
The Member (you) agrees to abide by all the terms and conditions of this Agreement. You understand and accept that Hamilton City Council Waterworld Staff (Waterworld) may require you to immediately leave the Waterworld Facility (Facility) as a result of breaching this Agreement. Serious or repeated breaches of this Agreement, dangerous and/or antisocial behaviour may result in cancellation of membership and/or trespass from the Facility.
IDENTIFICATION
Production of Photo Identification is compulsory for first time Members.
GYM ETTIQUETTE
The Member agrees to abide by the Gym Etiquette. Waterworld may change the Gym Etiquette from time to time by publishing new Rules that will be displayed in the gym or be made available to you.
MEDICAL CONDITIONS
Every Member who has any medical issues must inform Waterworld and may have to consult with their doctor to continue the use of the Facilities. The Member confirms that they do not have injuries or medical conditions that make it harmful in any way to exercise and that they have completed the medical declaration form to the best of their ability. The Member understands that Waterworld staff and trainers cannot provide medical advice to you or anyone else.
HEALTH AND SAFETY
The Member understands that accidental/personal injury is covered by accident compensation law (ACC) in New Zealand. The Member must comply with all health and safety directives from Waterworld and comply with any requirements of the Health and Safety at Work Act 2015. The Member must immediately notify Waterworld Staff of any near misses or accidents.
PRIVACY AND USE OF INFORMATION
Waterworld will use the Member's information for administration purposes and for any emergency which might arise while on Waterworld premises. Waterworld will also use information provided in this Agreement to communicate with the Member and/or make available various opportunities that may arise from time to time, unless you notify us otherwise. You have the right to ask for this information to be corrected at any time.
MEMBERSHIP PAYMENTS
All payments are to be made direct to Waterworld's nominated agent to ensure proper crediting. The Member authorises any person or company to provide Waterworld with such information they may require in response to credit and/or employment enquiries.
Membership entitles the Member to use the facilities of Waterworld (when available); it is not based on the actual usage of the facilities. Failure to use the facilities does not absolve the member from the responsibilities under this agreement or entitle the member to a refund, discount or extension of term.
The member may, by completing a Membership Suspension Request form, place their membership on hold without a fee for a minimum period of two weeks up to a maximum period of two months, and twice per 12-month membership. Time will be credited to the end of the membership agreement.
FACILITY ACCESS
The Member will be issued a membership card, which must be swiped and presented for entry to the facilities. Access to the facilities may be denied if the Member fails to present the membership card or proof of identity. There is a fee if the membership card needs replacing or re-issuing. If the member wishes to attend any classes, the member must present their membership card to the receptionist and obtain a tag to be handed to the class instructor. Numbers for classes are restricted for safety reasons.
WATERWORLD FACILITY CLOSURE In the event of a full Waterworld facility closure, all memberships will be placed on hold on the day of closure and be automatically restarted when the facility reopens.
Should the Member need their membership to remain on hold, they will need to contact Waterworld staff in writing.
ALL-INCLUSIVE MEMBERSHIPS
The All-Inclusive membership allows the Member to use the pools (when available) excluding Hydrotherapy pool. Also included are Gym, all Group Fitness classes, Steam, Sauna and Spa (when available). Bands may be required upon entry.
HEALTH PROFESSIONALS AND SUPPORT STAFF
Physiotherapists and other Health Professionals and support staff may be asked to wear identification and ensure both themselves and their clients are dressed according to our Gym Etiquette.
SUPERVISION OF CHILDREN
Waterworld has a strict Child Supervision Policy. Children under the age of 16 are not permitted in gym areas (including upstairs in the gym waiting area and office).
ALCOHOL AND SMOKING
Alcohol is not permitted at the Facility. The Facility is a smoke-free environment. Smoking is not permitted.
INDEMINITY, LIABILITIES
Hamilton City Council (Council) is not liable for the loss of or damage to any of the Member's property in or around the Facility. Any equipment/property left at the Facility is at the Member's own risk.
The Member will indemnify Council, its employees and agents against all claims, demands, losses, damages, costs and expenses arising from the Member's use of the Facilities or any breach of this Agreement.
To the extent permitted by law and without limiting any of the Member's rights under the Consumer Guarantees Act 1993, Council shall not be liable to the Member for any loss arising under or in connection with this Agreement, whether in contract, tort (including negligence) or otherwise. The Member shall not be entitled to any refund if there is a breach of this Agreement.